Granite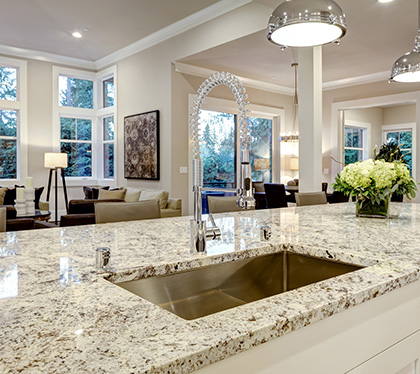 Granite Countertops Renewed!
Have your granite countertops lost their original beauty? We can fix that. Have you had your granite countertops cleaned and sealed lately? We recommend having your granite countertops cleaned and professionally sealed every two to three years or as needed.
Granite Care
Our years and years of experience with granite can resolve virtually any problem you may have. We canů
Repair Cracks and Chips in Granite Countertops
Restore Dull Granite Floors and Surfaces
Remove Most Stains
Seal and Protect
Granite Restoration Requires Specialized Skills
While granite is much harder than marble, if and when granite needs restoration you need to call a professional that has the specialized knowledge to work on your granite. Many stone restoration contractors won't touch it. 1st Floor Surface Care is qualified to restore your granite. Whether it needs to be diamond honed, re-polished, or cleaned and sealed, our professional technicians can perform these services for you. The key to keeping your granite looking new is the proper cleaning, polishing and sealing of the stone. We make it a point to educate our customers on proper stone care.
Caring for Your Granite
Granite is different than marble when it comes to its recommended usage and its care and maintenance. The first thing you need to know is that granite is a much harder stone than marble, and granite usually does not etch. (However we are now starting to see that some of the granites that are used today can etch from acidic items being spilled on the surface.)
Granite can be cleaned using the same process as marble.
For granite we recommend cleaning the surface using a quality stone safe neutral stone cleaner. Visit our Caring For It page to download our Stone and Tile Care Guide and to see recommended products. If your stone becomes scratched or etched, 1st Floor Surface Care can polish and restore your granite countertops, vanities or floors to like-new condition.
Are you in the Charleston, Hilton Head, Bluffton or Savannah area and need granite cleaning, repair or sealing? Contact us online or call today (843) 338-6220 for a free estimate.