Marble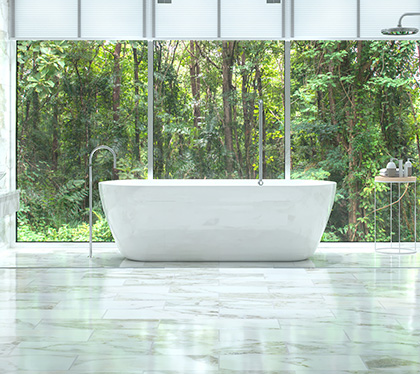 We Know Marble
We understand and appreciate its characteristics. Our passion for what we do and a strong commitment to educate our customers on proper care and maintenance is evident in every single job we do.
Marble Does Need Maintenance
There is a bit of a misconception that since marble is a stone it does not need any maintenance. The truth is all marble needs some type of care and maintenance.
Marble is generally a softer stone and comes in many colors with different and beautiful veining. Some marbles are harder than others. Marble will scratch, etch and lose its shine and luster if not maintained on a regular basis.
Expert Marble Floor Restoration
If you have a marble floor that has become etched, has lost its shine and beauty or is in need of repair, then it is time to give us a call. 1st Floor Surface Care can repair, refinish, protect and restore your marble back to its original condition.
Lippage Removal —Flattening Uneven Tiles
Do you have unevenly laid tiles? At best, lippage will diminish the beauty of the floor, and at worst can cause a trip hazard. We can grind the floor to a uniformly flat surface, then polish it.
We Can Even Change the Finish
If you have a honed/satin finish and want to change it to a high polish, we can do this. Or if you decide a softer, more subtle finish is what you are looking for, we can take a high-polish shine down to a matte or satin finish.
Caring For Your Marble Floors
At 1st Floor Surface Care, we make it a point to instruct you on the proper care you should use in cleaning and maintaining your marble floors. Visit our Caring For It page to download our free Stone and Tile Care Guide. We also offer a full line of Care Products to help assure you are using the proper cleaning product to keep your marble in the beautiful condition you are looking for.
If you are in the Charleston, Hilton Head, Bluffton or Savannah area and are in need of marble polishing or maintenance, contact us online or call (843) 338-6220 today for a free estimate.