Chipped Granite Repaired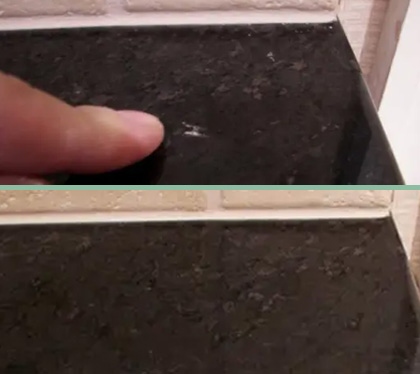 Granite
Info:
Chip on granite countertop repaired
Granite is a very durable stone. However, with time and use, especially in high usage areas, wear and tear can become apparent. Chips, stains, cracks, or just a dull, worn look can diminish the appearance of granite.
As you see in these images, granite can be repaired, restored and refinished to look as good or better than the day of installation. 1st Floor Surface Care can restore your damaged granite. Our professional technicians adhere to the highest standards in stone restoration, from cleaning and polishing to honing, grinding, and sealing. Don't replace your granite, instead, contact us to repair, maintain, and protect your granite.
Are you in the Charleston, Hilton Head, Savannah and Bluffton area and have chips or pits in your granite countertops? You don't need to live with them like that. Give us a call at (843) 338-6220