Terrazzo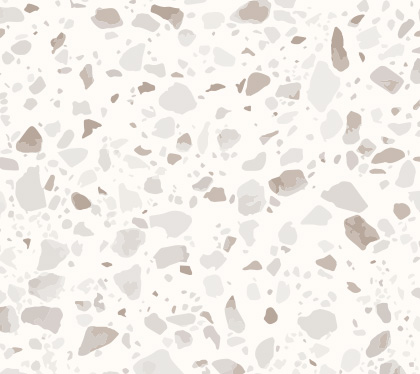 Terrazzo Floor Polishing | Hilton Head, Savannah, Bluffton
Terrazzo is a unique stone finish that usually contains marble chips of different sizes and colors, held together with a cement base or, in newer applications, with a resin or epoxy base. Terrazzo can be restored using the same process that is used in restoring marble and granite.
No Need For Waxing
A lot of terrazzo, particularly older terrazzo, is finished with a wax or other topical coating to give it shine. These coatings not only have a tendency to collect dirt, but over time they can yellow, requiring stripping and re-waxing to bring back its original look. The truth is, however, that terrazzo can be beautifully restored using a natural polishing process that eliminates the need for topical coatings and actually reduces maintenance costs.
A Variety of Finishes
When terrazzo is finished naturally you can achieve a gloss or matte finish. Utilizing this natural process, 1st Floor Surface Care can restore, re-polish and repair your terrazzo floors, walls or counters. We will also educate you on the proper cleaners and care products to use in order to keep your terrazzo looking like new with minimum maintenance.
If you are in the Charleston, Hilton Head, Bluffton or Savannah area and need your terrazzo repaired, restored, polished, contact us online or call today (843) 338-6220 for a free estimate.