Environmentally-Friendly Natural Stone
April 13, 2022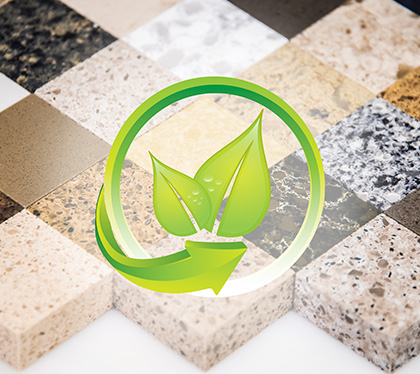 Is Natural Stone An Environmentally-Friendly Choice?
Granite, marble, travertine, and other natural stone materials can create a warmer and more inviting atmosphere in a home or office space and serve as an excellent choice of d้cor, especially for nature lovers. However, environmentally conscious people may wonder whether it leaves a significant carbon footprint. We asked Fred Hueston, Chief Technical Director for surpHaces and Founder of Stone Forensics to weigh in on whether natural stone is an environmentally friendly choice. Here's what he had to say.
Stone Is Not a Limited Natural Resource
Stone can be found in almost every country in great abundance. For example, marble has been quarried in Carrera, Italy for centuries, and there is still an abundant supply. In the United States, there are quarries within 500 miles of nearly every major metropolitan area. Quarry techniques have also improved worldwide, and most of the time, explosives are no longer required. "It's a pretty clean industry with zero waste," said Hueston.
Natural Stone is Minimally Processed
There is very little environmental impact in stone fabrication, because fabricators use specially designed wet blades to greatly reduce the amount of silica, or stone dust, that is released into the air. Unlike stone, composite materials like wood, brick, ceramic, glass, and concrete require natural resources and energy to create.
Many recycled composite materials contain polyester binders, which are basically plastic, and can emit VOCs (volatile organic compounds), because they are solvent based. The lifespan of composite materials is also limited, unlike natural stone, which virtually lasts forever. Polyester resins in engineering materials will break down over time and are sensitive to heat and sunlight, which is why natural stone is the preferred choice for outdoor d้cor.
What About Cleaners and Sealers?
Environmentally friendly, pH neutral cleaners are recommended over harsh cleaners for natural stone. And according to Hueston, nearly all sealers used on natural stone are water-based and FDA approved.
High Durability Means Little or No Waste
Have you ever visited to an old church or historical building where the original granite or marble floors, walls, and other surfaces were still in use and looking untouched by time? Natural stone not only can withstand centuries of traffic and use, but with proper care and regularly scheduled maintenance, it can continually look brand new.
When natural stone is damaged, in most cases, it can be completely restored, and if for some reason it is damaged beyond repair, it does not have to end up in a landfill. It can be used for other building materials, like gravel, for example.
According to Hueston, calcium-based residual material from marble quarries is used for vitamins, medicines, and antacids. There is even a North Carolina quarry that uses their waste for local chicken feed.
The great thing about stone is that it came from the earth, and whatever is not recycled can be simply returned back to the earth.
This article is one of a series of articles written and published on behalf of
SurpHaces PRO Partners